Central bankers have a tough task when it comes to communicating with markets – just ask the Bank of England's Huw Pill, who started the week hinting at rate cuts and ended it with an insistence that the current setting has to remain in place to quash inflation. 
 
In this week's episode, Group Chief Economist Neil Shearing delves into the challenges that central banks face in articulating policy to the market, and what lies behind the relatively hawkish rhetoric of late. Neil also talks about some of our key calls for the global economy in 2024 and discusses how concerns about debt sustainability will play out next year. The departure of three pandas from a zoo in Washington also comes up in his conversation with David Wilder as they talk through the latest on the fracturing of the global economy. 
 
Plus, Deputy Chief EM Economist Jason Tuvey is on the show to talk about Saudi Arabia in a fracturing global economy, including what's changed in the Kingdom's relations with Beijing and Washington and how a return of Donald Trump to the White House could affect this diplomatic landscape.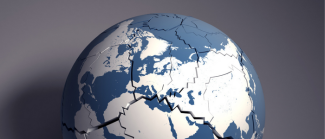 The fracturing of the global economy
The macro and market consequences of US-China competition