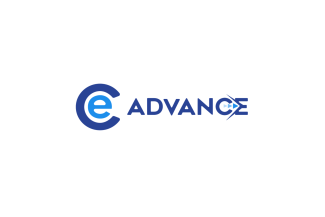 CE Advance
A new premium product from Capital Economics
CE Advance delivers Capital Economics' award-winning analysis through a new personalised digital experience.
Investors and leaders making strategic business decisions do not need more data and information. They need insight.
Unfiltered information can slow down the decision process, and when every second counts to make fast, well-informed judgments ahead of the market those who lose time risk their competitive advantage. 
And with the volatility of recent years shifting from 'unprecedented' to the new normal, it's more important than ever to understand the potential impacts and drivers of economic events on your business. To beat market benchmarks, decision-makers need trustworthy, unbiased insights tailored for their unique perspectives and commercial priorities.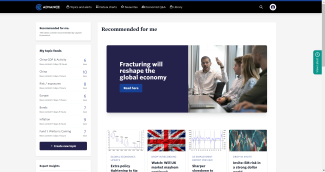 Premium platform with a user-centric design 
A high-speed digital service optimised for mobile or desktop usage
Embedded and contextualised videos, podcasts, audio files alongside written content and data
Personalised insights, analytics and perspectives delivered direct to your mobile or desktop as they happen
Direct engagement with experienced economists 
Exclusive podcast and invitation-only live events with our chief economists
Chief Economist curated, end-of-week wrap highlighting key research and insight
A fully searchable and interactive economist Q&A content service with up-to-date questions from our global user base and economist answers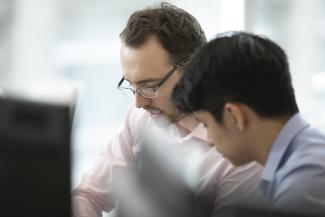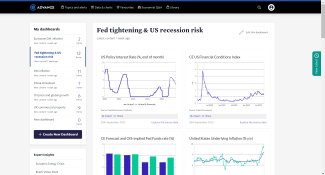 Interactive data and charting 
Exclusive access to an extensive range of proprietary data and and indicators, including the China Activity Proxy and US recession trackers.
Powerful but easy-to-use tools let you create the dynamic charts for presentations or analysis 
Build one-off charts or create a dashboard of favourites, selecting from a full range of economies and markets, indicators, time horizons and chart styles.
Custom alerts and topic feeds
Fully customisable interface lets you create your own unique alerts aligned to specific investments and areas of interest
Alerts and topic feeds are updated in real time, allowing you to always see the latest information through your client portal and choose the frequency of your email summaries
Gain a holistic view of what's happening and what matters to you quickly and easily on your homepage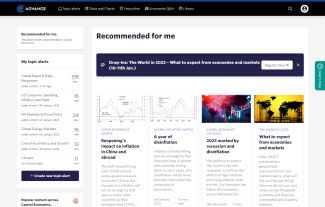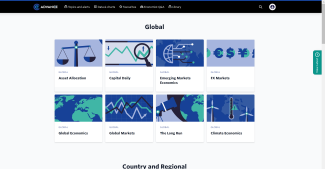 More insight into the global economy and markets
Complete online access to Capital Economics' analysis and forecasts across over 100 markets, geographies and sectors
Exclusive access to our new Climate coverage with in-depth analysis, charts, data and reports
A wealth of data and dashboards, including custom-made dashboards for use in internal and client-facing reports
Request a demo to learn more about CE Advance
Think CE Advance is the right solution for your organisation? Complete the form below to arrange a demo with our team.