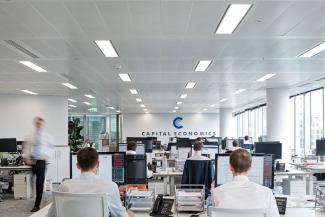 Capital Economics is a world leader in providing independent economic insight. We enable organisations to make better investment decisions that deliver sustainable value.
Our team of 70+ experienced economists provides award-winning macroeconomic, financial market and sectoral analysis, forecasts and consultancy to serve our diverse global client base.
Capital Economics was founded in 1999 based on the premise that in an increasingly connected and complex world, there was a compelling need for financial institutions to have access to independent, high-quality insight into the immediate to longer-term implications of macroeconomic events. Our methodology is built upon six core principles, which are embedded in every piece of analysis we produce and every interaction we have with our clients.     
Speed of insight provides advantage
We know that every second counts when our clients need to make key investment decisions. That's why we ensure we provide the fastest analysis possible after important events through a range of channels that help clients get the information they need in a format that suits them.
Forecasts that unlock value
We have a proven track record of accurate forecasts in key markets and regions, built upon the collective market experience of our economist team. We can confidently make non-consensus calls when necessary thanks to our rigorous analysis and independence.
Holistic, consistent and up-to-date analysis
We continuously analyse interactions between economies, regions and sectors and evolve our forecasts to provide an up-to-date picture of what matters right now. We are not wedded to a specific model, which allows us to respond with agility to major events, like pandemics and wars.
Clear and CONCISE conclusions
Our research is presented in a succinct, jargon-free style that is easy to understand so that our clients can glean the essential message quickly without needing to read a lengthy report. Our focused analysis cuts through the noise to highlight what our clients need to know following an economic event, and what it means for their investments.
Experts challenged by experts
Our forecasts are built upon the years of market knowledge and experience of our economist team. We work together to help enable our clients to understand the global trends that will influence their success in the immediate term, in the next 2-3 years and beyond.
Support for the organisation and the individual
We provide our insights across a range of channels that allow all roles involved in investment decisions to get timely, relevant information in a format that suits them.
Senior Leadership Team

Joe Steele

Chief Executive Officer

Seb Butter

Chief Financial Officer

Neil Shearing

Group Chief Economist
Kevin Stillwell

Chief Revenue Officer

Michelle Boe

Marketing Director

Raymond Fawcett

Director of Technology and Product Management