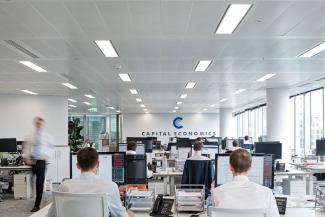 Capital Economics is a world-leading provider of independent economic insight. We enable organisations to make better investment decisions that deliver sustainable value.
Our team of 70+ experienced economists provides award-winning macroeconomic, financial market and sectoral analysis, forecasts and consultancy to serve our diverse global client base.
Capital Economics was founded in 1999 based on the premise that in an increasingly connected and complex world, there was a compelling need for financial institutions to have access to independent, high-quality insight into the immediate to longer-term implications of macroeconomic events.
Senior Leadership Team

Joe Steele

Chief Executive Officer

Seb Butter

Chief Financial Officer

Neil Shearing

Group Chief Economist
Kevin Stillwell

Chief Revenue Officer

Michelle Boe

Marketing Director

Raymond Fawcett

Director of Technology and Product Management