Our new Climate Economics coverage provides the insight you need to understand how climate change – and the steps taken to mitigate it – will affect economic and market outcomes in the coming years. Building on our previous research on this global challenge, this dedicated coverage draws on the expertise of our 70+ team of economists to explain how economic and market forces are driving green transitions, how an increasingly-fractured global economy is hampering government cooperation, and which countries stand to lose out and to gain from climate change.
A redrawing of the emissions map
Our inaugural Climate Economics Outlook establishes our bottom-up long-term forecasts for greenhouse gas emissions for the world's largest polluters.

Other CE climate coverage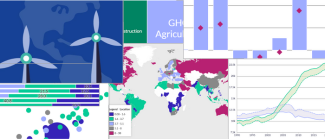 Climate Databanks
Thousands of interactive and downloadable data series provide the metrics you need to understand how climate is changing the economic landscape    
Available to CE Advance clients