With the zeal of converts, Fed officials spent the weeks after Jackson Hole delivering their hawkish message to markets. Although it has already raised the fed funds rate by 300 basis points so far this year, it's not done yet: our US Economics team thinks another 125bps in hikes are coming before year-end.
All this tightening will take its toll on activity. But it could also mean a quicker end to the fight against inflation and lead to efforts to unwind rate hikes before the end of next year.
In their Q4 Economic Outlook, the team of Paul Ashworth, Michael Pearce and Andrew Hunter explain how they now expect a recession early next year as a result of the Fed's hawkishness.
It will be a relatively mild downturn. Residential investment may take the brunt, while business investment will be cushioned by pent-up demand and consumer spending by fairly robust balance sheets. Exports and imports are also likely to contract over the coming quarters, as the US follows the rest of the global economy into recession.
Nonetheless, a period of economic contraction should take some steam out of the labour market and, in concert with gathering signs of disinflation, would mean inflation pressures fade more quickly than most are expecting – including the Fed.
Our team sees slowing wage growth helping to drive headline CPI below 2% by the middle of next year, with core CPI eventually falling to nearly 2%. At that point, interest rates at 4.5-4.75% look untenable, the team argues.
"Although officials insist that rates will need to remain at those levels for some considerable time, we believe that a more rapid decline in inflation will persuade the Fed to cut rates again from late 2023 onwards," the team says.
After insisting for too long that inflation's resurgence was the result of transitory forces that would soon dissipate, the Fed has finally found its inner Volcker and surprised markets with the intensity of its campaign to tamp down price pressures.
But the efforts of that campaign will become apparent in the data sooner than anticipated, at which point the great post-pandemic tightening cycle will start to be unwound.
Learn more about how falling inflation will persuade the Fed to cut rates by downloading our Q4 US Economic Outlook.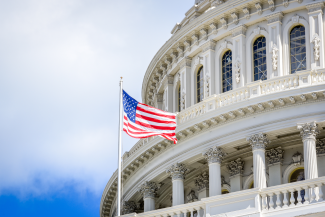 US Economic Outlook
Our latest edition of the quarterly US Economic Outlook provides comprehensive analysis of the US economy for this year and beyond, assessing the key issues that will shape macro and market outcomes.