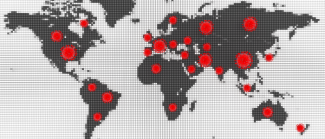 Economies After COVID
Special research series from 2020 explored the wider economic and market legacies of the pandemic. 
Most economists agree that the pandemic will deliver a lasting blow to output and the global economy will be substantially smaller by the end of this decade than would otherwise have been the case. However, we suspect that some of this pessimism about the long term is not only overdone, it misses the point.
The special series of research below, produced by economists from across our services, includes recordings of a seven-part series of webinars and formed the basis of our 2020 annual conference.
This 2020 series argued that the economic legacy left by the virus may not reveal itself in measures such as GDP. It explained why, rather than fixating on the long-run trajectory of GDP, we should look for the wider legacy of the pandemic. 
It showed, for example, how changes in behaviour that were already underway among consumers and businesses were likely to be accelerated by the pandemic. The series also showed why the size and role of the state was unlikely to return to their pre-virus condition, raising lasting and challenging questions about how governments fund themselves. The pushback against globalisation and multilateralism would intensify, the series explained, marked by a more sustained rupturing of relations between China and much of the rest of the world.
Finally, the series showed why the huge policy response to the pandemic would have long-lasting implications for government debt burdens and inflation.