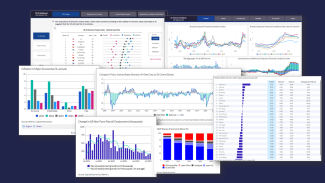 How We Help:
Data & Charting Capabilities
Get the edge you need through Capital Economics' proprietary indicators, macro and markets forecasts and curated dashboards.
 
Capital Economics clients benefit from an extensive, exclusive range of data combined with intuitive and flexible charting tools. They leverage our proprietary indicators, curated dashboards and forecasts across a range of use cases to inform investment decisions and know what to expect in economies and markets in the months, years, and even decades ahead.
Capital Economics Proprietary Indicators
From artificial intelligence to US recession alerts to the real story of Chinese growth, our clients benefit from hundreds of proprietary Capital Economics indicators. Together they offer unique insight into developed and emerging economies, as well as financial, commodity and property markets, which help clients identify and act on key turning points quickly and with confidence. 
Learn more about our featured proprietary indicators below.
AI Economic Impact Index
Understand how artificial intelligence will transform the global economy. Our proprietary AI Economic Impact Index stack ranks countries according to their ability to innovate, adopt and adapt to AI, helping clients identify opportunities and risks in their investment portfolios.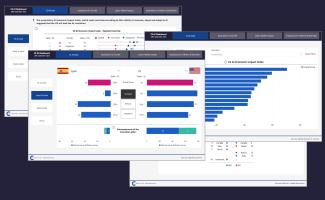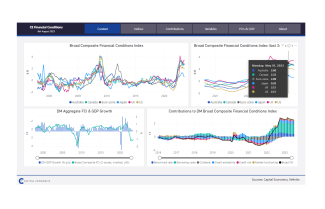 Financial Conditions 
Gain a holistic overview of financial conditions across major developed economies. It presents our proprietary financial conditions indices (FCIs) as well as a selection of input variables used in our FCIs. Our FCIs indicate the ease with which finance is accessed, and hence how supportive financial conditions are for economic activity.
China Activity Proxy (CAP)
Get a more accurate measure of Chinese economic growth to inform your investment strategy. This monthly proxy is based on a set of carefully selected indicators that capture activity across a broad spectrum of the economy and avoids relying on official GDP figures to gauge China's economic growth.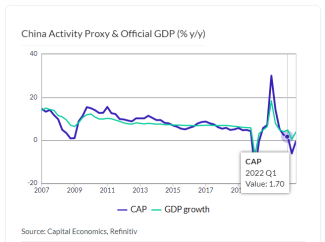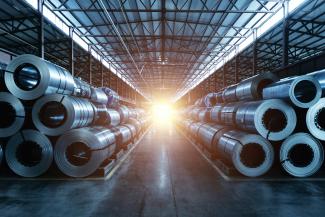 Metal Demand Proxies
Track consumption of metals by end-users. Most estimates of metals demand are made by considering domestic production, imports and moves in stocks. However, imports and stocks can be driven by arbitrage opportunities and warehousing economics. The CE demand proxy monitors growth in activity in industrial sectors that use the metal to try and remove these distortions.
Commercial Property Valuations
View a global comparison of property valuations using valuation scores for each property sector based on their relative values against a range of alternative asset classes. Our composite valuation measures provide an objective rationale upon which we can rank markets according to their relative valuation scores.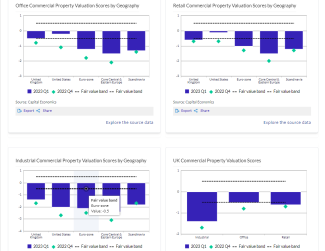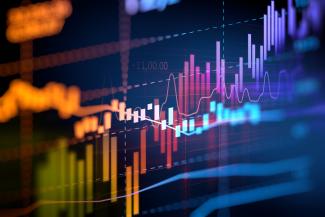 Try for free
Experience the value that Capital Economics can deliver. With complimentary 2-week access to our subscription services, you can explore comprehensive economic insight, data and charting tools, and attend live virtual events hosted by our economists.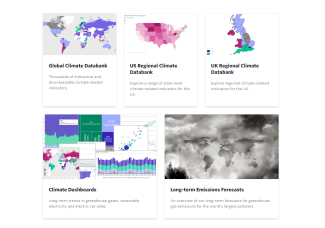 Climate Dashboards
Our climate databanks bring together over 10,000 series on greenhouse gas emissions by sector, EV rollout, carbon taxes and more. These databanks power customisable dashboards that help clients interpret and use the data in their daily work.
Climate databanks and dashboards are exclusively available through CE Advance.