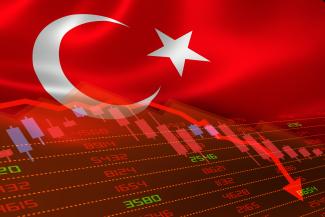 Turkey's election preview: What's at stake
Your guide to the macro and market implications of this crucial vote and what it means for investors
It's crunch time for Turkey, with parliamentary and presidential elections on 14th May offering voters a clear choice between a way back from the unorthodox policies of Recep Tayyip Erdoğan or a continuation of the president's rule – and heightened risk of currency, banking and sovereign debt crises.
This special guide to the election explains what's at stake, including what economic policymaking would look like under opposition candidate Kemal Kilicdaroglu and the key market risks that investors need to know about. Download the guide today to learn:
The state of the race and the Turkish economic outlook under our election scenarios; 
What a Kilicdaroglu presidency would need to do to restore macroeconomic stability;
Why another Erdogan term would lead to (more) crises.
Access the featured report
Submit your details to access the free report