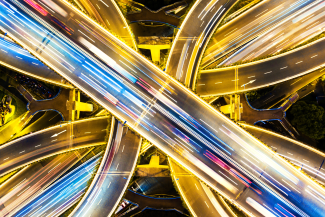 CMS
Thought leadership case study
CMS commissioned us to aid production of the 2021 edition of their proprietary infrastructure index.
Client profile
CMS is an international law firm that offers legal and tax advisory services.
Project scope
CMS commissioned us to aid production of the 2021 edition of their proprietary infrastructure index which acts as a guide to the most attractive destinations for infrastructure investment across 50 jurisdictions globally. 
Our research
We collected official statistics from national agencies and multinational organisations covering economic performance, political stability sustainability, tax environment, ease of doing business and private sector participation. We conducted a variety of interviews to add context to the quantitative information we collated. 
Client deliverables
We produced a ranking for each jurisdiction based on six specific criteria, thereby providing an objective, quantitative assessment. In addition to extracting novel insights from the data we collected, we utilised the interview to compile individual country profiles and to generate focus pieces on several key issues - Environmental, Social and Governance (ESG), Net Zero targets, and digital infrastructure. 
View the client's report CMS Infrastructure Index: Accelerating transformation
Client results
CMS utilised this report to raise its public profile within the infrastructure, energy, and technology, media, communication (TMC) sectors. By providing CMS with a clear narrative on these topics, the firm was able to build on its alignment with clients' needs, while providing conversation starters, generating press coverage within relevant industry publications, and cementing the client's reputation as a thought leader in the sector.
Meet the team
Grant Colquhoun

Head of Consultancy

Grant brings over 25 years' experience of applying economic analysis in industry, public sector and consultancy to meet business and investor needs. He leads the team and specialises in delivering robust macro due diligence, strategic planning, scenario analysis and sector-focused assignments.

Matthew Caddy

Head of Partnerships

Matthew Caddy is our Head of Partnerships. He has responsibility the business development of our bespoke consultancy arm as well as our new Partnership program.
Get in touch
We help our clients build credibility and trust with their partners and stakeholders through insight. Find out how we can help your organisation make an impact.