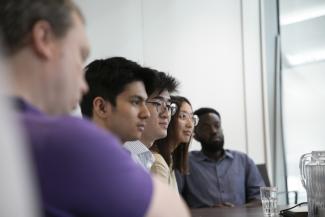 Summer Internship
(London)
Recruitment
Capital Economics is looking for bright and highly motivated economists to join the company for eight weeks as interns. Successful applicants will have good attention to detail, the ability to work well under pressure, as well as an aptitude and interest in economics and financial markets.
The successful applicants will help with data retrieval, analysis, and the written output of an in-depth Focus piece for one of our country/regional , financial markets, commodities or property teams. There will also be opportunities to contribute to other publications, and benefit from a variety of internal training sessions.
This internship is aimed at students graduating in Summer 2025 studying economics or a closely related subject. Capital Economics is committed to equality, inclusion, and diversity and will prioritise applicants from low income and under-represented backgrounds within the industry, including female and ethnic minority candidates.
While there is no guarantee that Summer interns will be offered a permanent position with Capital Economics, depending on the performance of the individual, interns may be invited to interview for the Graduate Training Scheme.
Applications for the internship is currently closed. We plan to reopen for Summer 2024 interns in Spring 2024. 
Additional Information
Guidance on what to include on your application to Capital Economics & the interview process
Academic record – 1st-year university grade, as well as A-Level (or equivalent) grades and subjects.
Work/Volunteer experience - include any work or volunteer experience. It does not have to be economics-related.
Extra-curricular activities: involvement in sports, arts, languages, music, university societies

As much as is reasonable, there should be no typos or grammar mistakes.
The cover letter should be more than a few lines, the candidate should be trying to impress and differentiate themselves.
The applicant should highlight any relevant (to CE) skills.
It would be good to demonstrate a passion for economics – courses enjoyed, lectures attended, books read, research projects.
Evidence that the applicant has researched Capital Economics.
Why you are a suitable candidate for the DEI internship which is targeted at low-income and underrepresented backgrounds.

Stage one: Excel  (30 mins) & Writing (45 minutes) Tests.
Stage two: Interview (30-45 minutes) The interview will cover the candidate's experience and motivations as well as open-ended economics questions to gauge economic reasoning.

This is a paid internship and successful candidates will receive a competitive salary. In addition, the company offers:

Leave package
Hybrid working
Flexible working policy
Training & development
Thriving social committee
An opportunity to interview for the Graduate Training Scheme, depending on the performance of the individual.