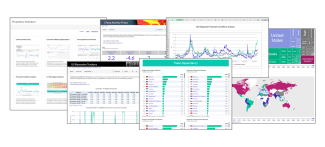 CE Interactive
Our data, your way.
Get the edge you need through our proprietary indicators, macro and markets forecasts and curated dashboards.
This powerful platform is a companion to our research services, providing a wealth of exclusive indicators and historical data, plus comprehensive forecasts from Capital Economics. Intuitive and flexible charting tools combine with specially-created dashboards of interactive tables and charts to give you unique analytical insight into the global economy and markets.
What is CE Interactive?
CE Interactive is an immersive data visualisation engine for Capital Economics subscribers:
EXCLUSIVE INSIGHT
From shortages trackers to US recession alerts to the real story of Chinese growth, CE Interactive offers hundreds of proprietary Capital Economics indicators. Together they offer unique insight into developed and emerging economies, as well as financial, commodity and property markets, providing crucial health checks and alerts to turning points.  
IN-DEPTH ANALYSIS
Curated, interactive dashboards deepen your understanding of the global economy and markets – whether it's for at-a-glance trend-spotting or deeper dive analysis. Can't find the dashboard you're looking for? No problem: a dedicated team of economists are on hand to create a dashboard to your specifications.
INTEGRATED WORKFLOWS
Our economists understand the importance of functionality, which is why CE Interactive provides plenty of options for seamless integration into your workflow. You can download our data straight into Excel spreadsheets, export your customized charts directly into Powerpoint presentations or download data via an Excel plug-in. 
CUSTOM SET-UP
Powerful but easy-to-use tools let you create the dynamic charts you need for presentation or analysis. Build one-off charts or create a dashboard of favourites. Choose from a comprehensive range of regions, indicators and time horizons, and pick from a host of chart styles.
Why do I need CE Interactive?
CE Interactive's immersive but intuitive range of data and charting tools allow for an extensive range of use cases:
Exclusive access to proprietary data
Only CE Interactive offers such an extensive, exclusive range of Capital Economics data. Get ahead of your compoetitors with our proprietary indicators, forecasts and dashboards that let you know what to expect in economies and markets in the months, years, and even decades ahead.
Real-time understanding
CE Interactive is a uniquely powerful analytical tool, whether for at-a-glance temperature checks or deeper dives.
Strengthen your calls
Automated updates mean you can rely on CE Interactive for datasets and dynamic charts to support your investment analysis or enhance your presentations. Our integration options allow our data and forecasts to be plugged directly into your workflow.
Available only as an addition to your existing Capital Economics subscription.